Here's a collection of some of the most beautiful, bizarre & borderline-insane pools around the world.
1. San Alfonso del Mar – Chile
The San Alfonso del Mar resort in Chile is home to the world's largest swimming pool. It cost around $2 billion US to build, costs $4 million US a year to operate, and it holds 250 million liters of water – about 2,500 times more than a respectable residential pool. Imagine one kilometer of pristine seawater stretched along the private white-sand beach. If you choose to stay at this hotel, your main concern for the next few days would be "Should I hit the ocean waves or relax at this enormous pool?"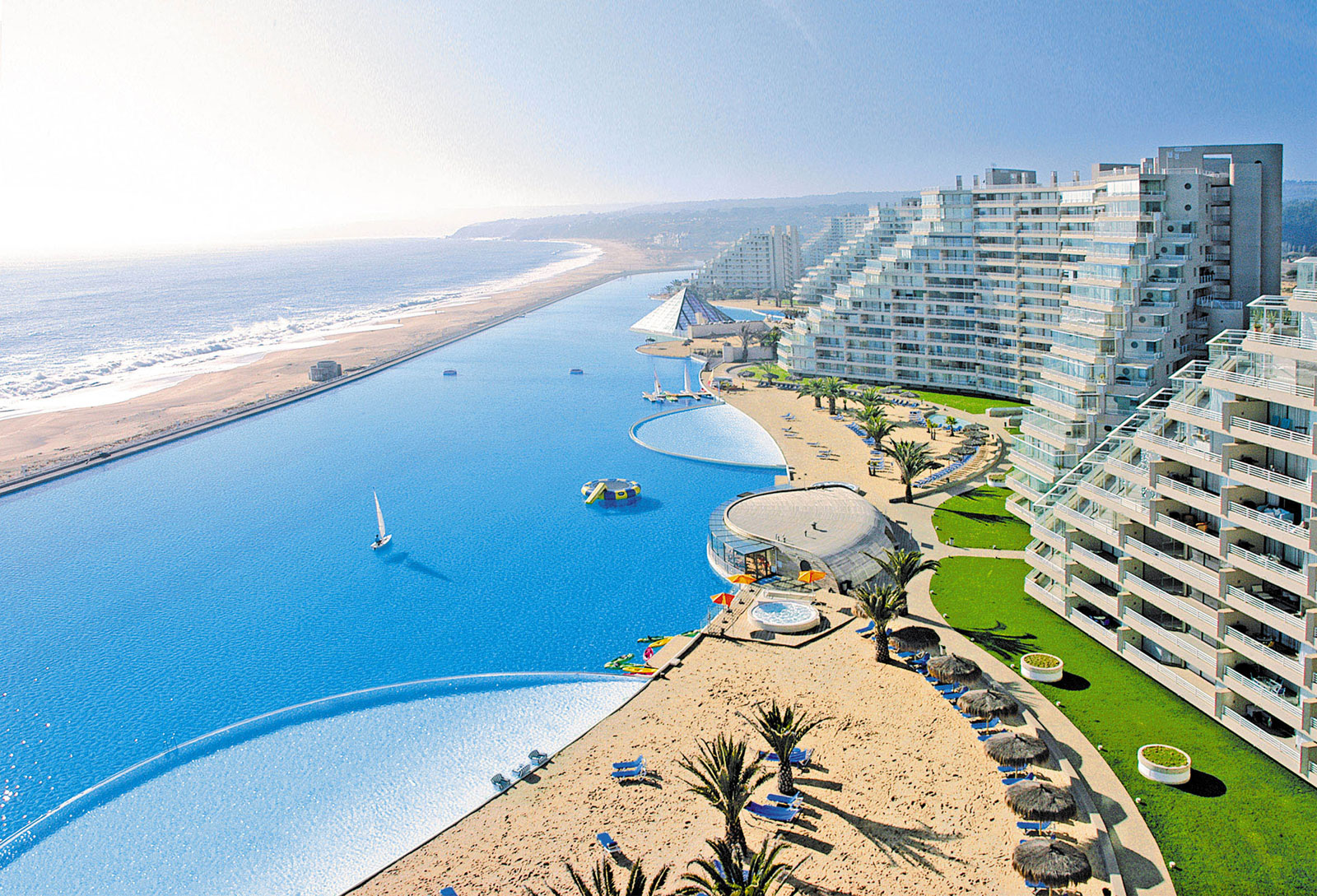 2. Hanging Gardens Pool – Ubud, Bali
The Hanging Gardens resort is right in the middle of the Balinese jungle, and the split-level infinity pool is right in the middle of the resort, so this pool really is in the middle of nowhere. Designed by a specialist architect, the striking formation is suspended over the dense rainforest, giving swimmers the unique sensation of floating above the treetops. The local terraced rice paddies inspired its design.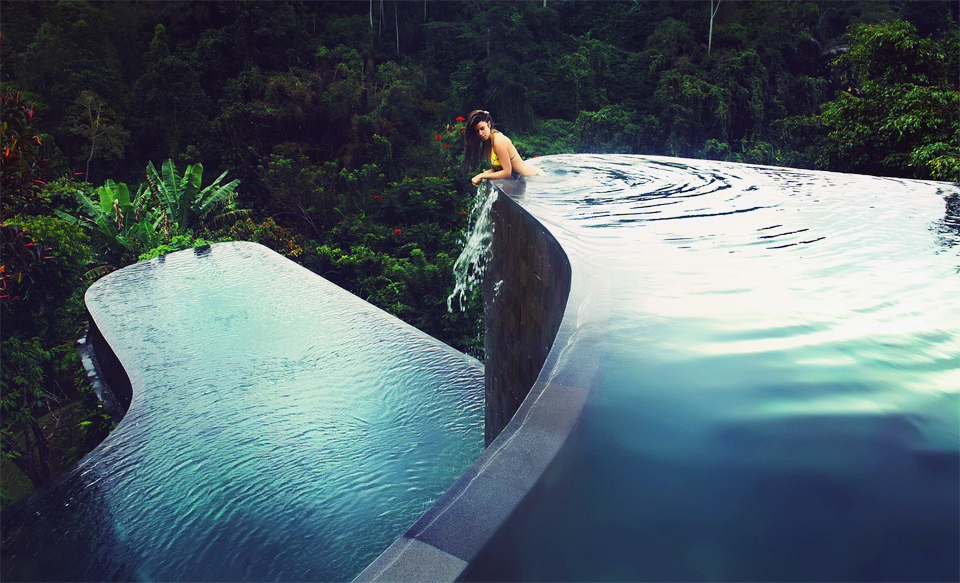 3. The Library Koh Samui Red Pool - Thailand
The Red Pool, found at the Library Koh Samui resort in Thailand, gets its red colour from tiles of red, orange and yellow. The water itself is perfectly clear. Still, you can't help thinking that it's cherry Kool-Aid.
Is red the new blue for pools? It definitely creates a glittering spectacle of vibrant color and unusual style. Bonus: just a few steps away is a private white-sand beach. Be ready to pay around $320 per night if you are giddy to splash here.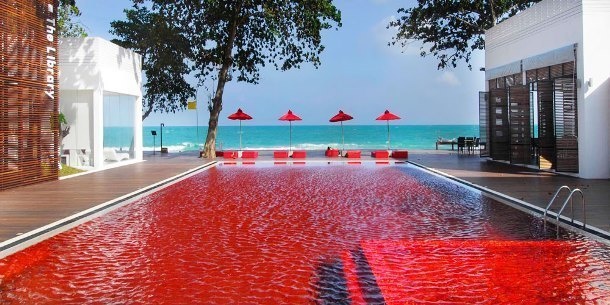 4. Jade Mountain Resort Pool - St. Lucia
This incredible pool is located on Saint Lucia Island, the hidden pearl of the Caribbean. Jade Mountain is a fancy secluded resort with a private beach, excellent spa treatments, and magnificent views opening from each room. Now, doesn't it seem like a perfect honeymoon destination to you? It sure does to us! Yet a day in paradise costs a tiny fortune of $1,550 per room. But a girl can dream, right?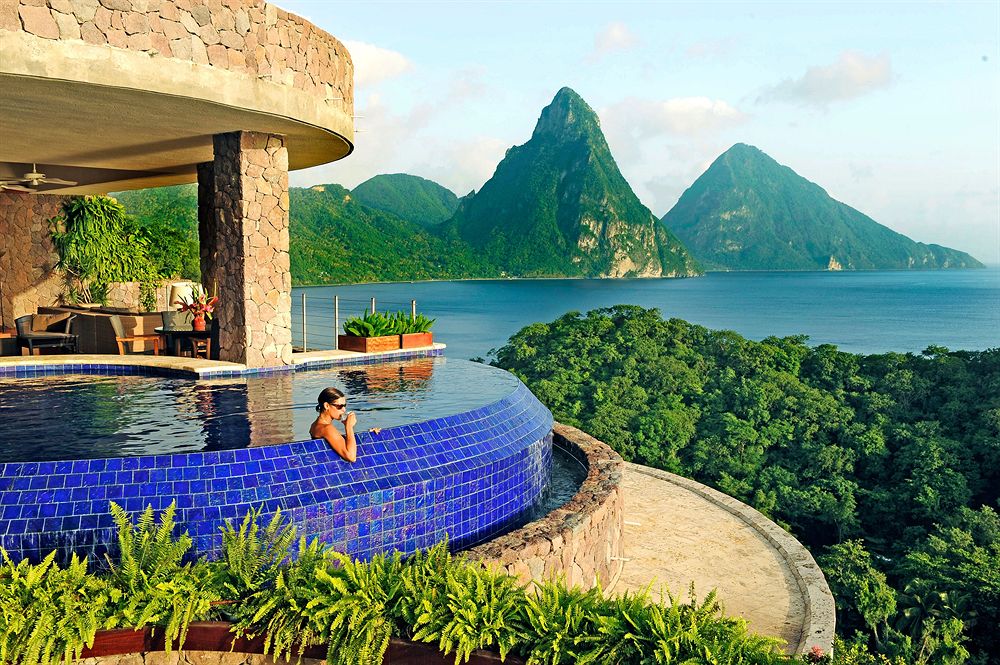 5. Blue Lagoon – Iceland
Okay, so this isn't a swimming pool per se, but people swim in it and you have to pay to visit, so it counts. The geothermal water is known for its healing properties, especially for treating psoriasis. Because of its unique location (i.e. – Iceland), it's a place where you can see snow, steam, ice, lava, and moss, ALL AT ONCE.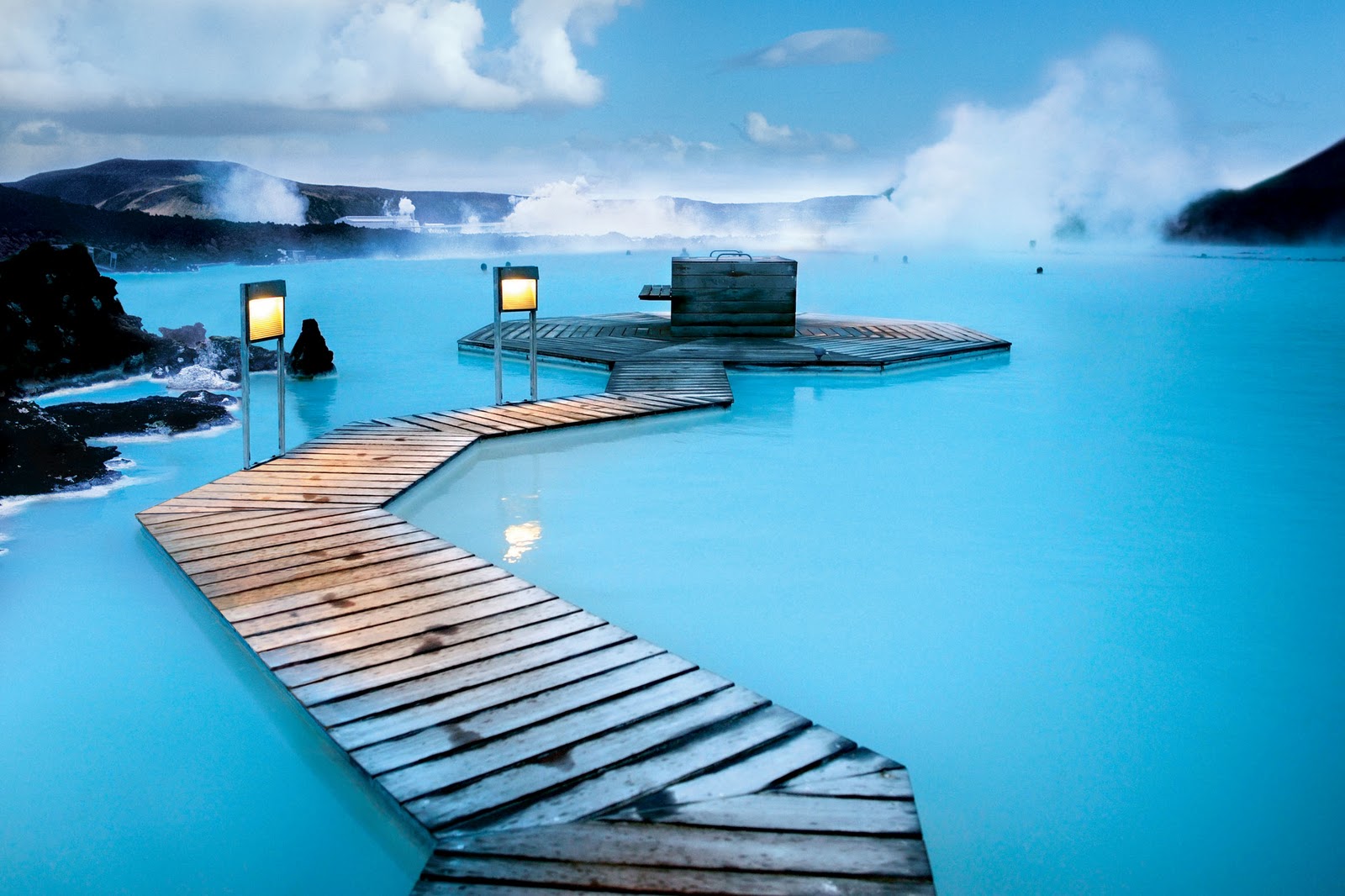 6. Bondi Iceberg Public Pool - Australia
Located at the southern end of Bondi beach and within a mere 15-minute drive from Sydney, Australia, sits the Bondi Baths. This historic 50-meter public saltwater pool has been around for over a century, attracting visitors from all over the world. The best news is you can get the million-dollar pool view for just $6.50 for adults and $4.50 for kids.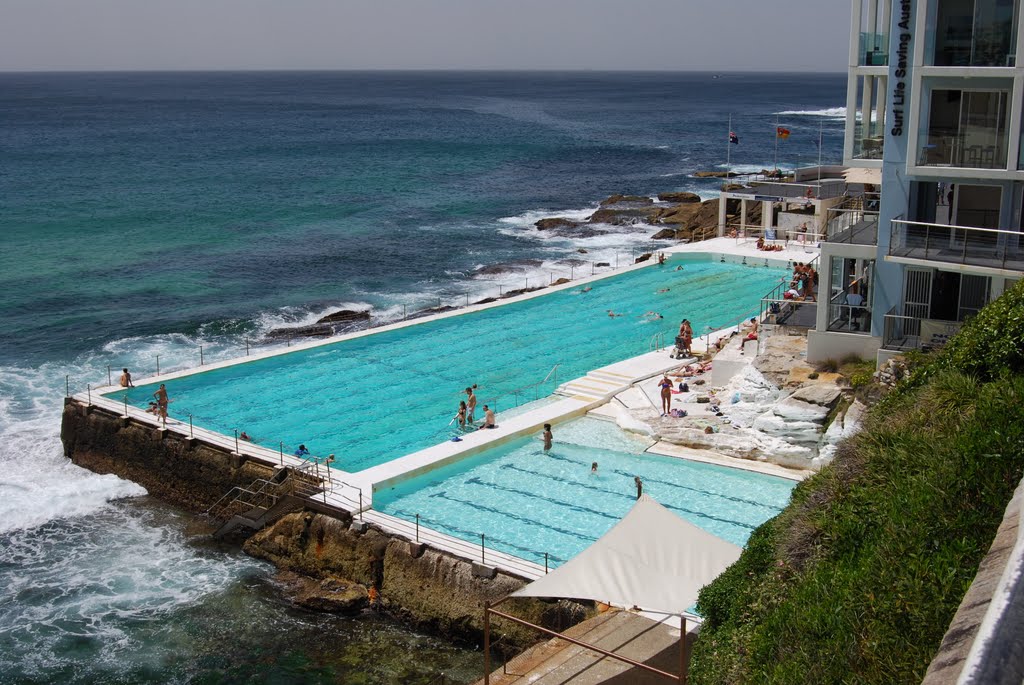 7. Marina Bay Sands Resort - Singapore
Imagine yourself floating in the world's largest rooftop Infinity Pool, gazing down on the glittering city-skyline from 57 levels above, as the lines between fantasy and reality blur. This 150 m (490 ft) infinity swimming pool, set on top of the world's largest public cantilevered platform, overhangs the north tower by 67 m (220 ft).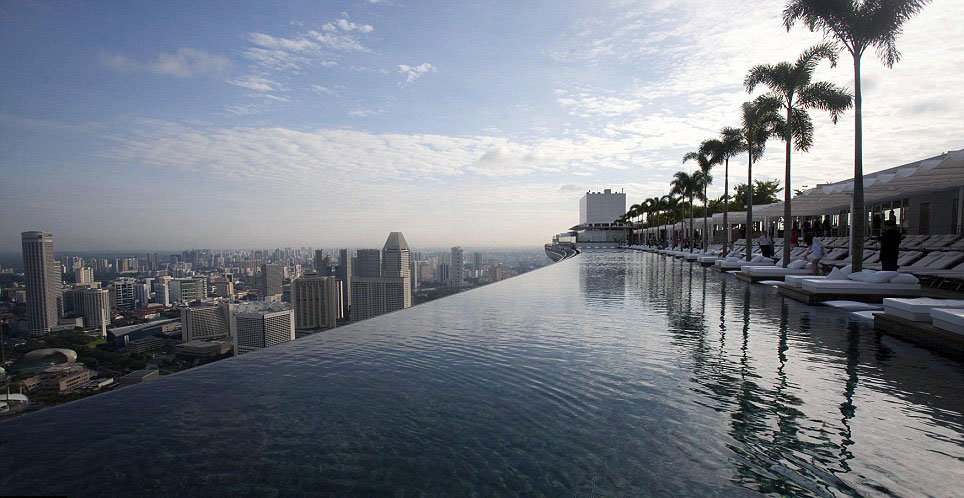 8. The Oberoi Udaivilas Pool – India
This five-star resort in India actually has two pools, one of which is this 89-foot pool overlooking a lake (and this is the smaller of the two pools, believe it or not). The deep blue tiled pool glows azure in the sunlight, while after sunset, flaming torches blaze red and gold across the dancing water. Decorated with sandstone columns and spouting elephant water fountains, the pool is vibrant with Rajasthani splendour.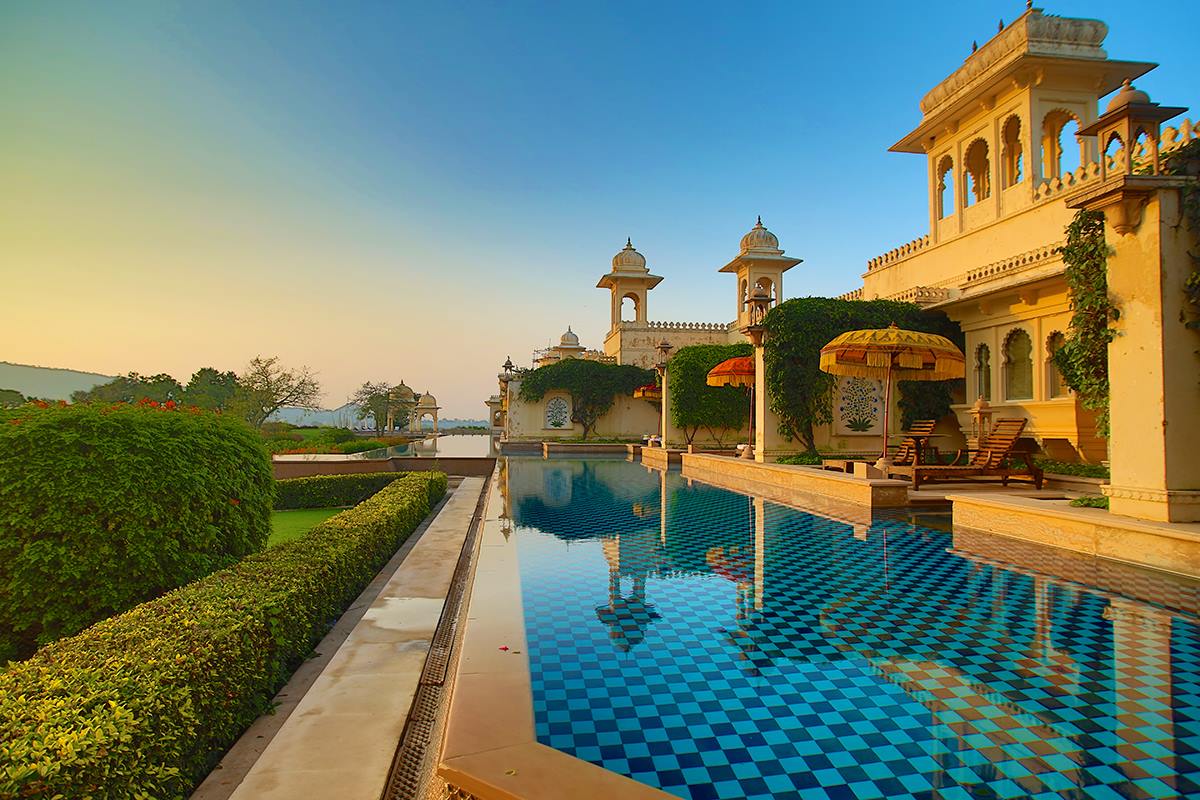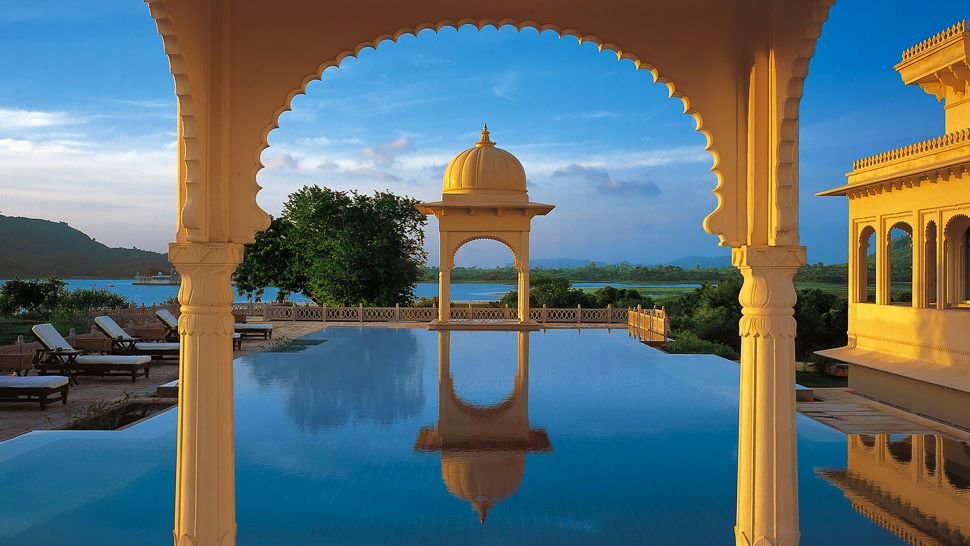 9. St. Regis Lhasa Gold Energy Pool - Tibet
If there's such a thing as too luxurious, this is surely it. The Gold Energy Pool at the St. Regis Lhasa resort in Tibet is surfaced with thousands of tiles plated with actual 24-karat gold, interspersed with crystals. The pool stays at a constant temperature of 28-32°C. This oasis also offers spectacular views of the resort's lake and the Himalaya Palace for added ambience.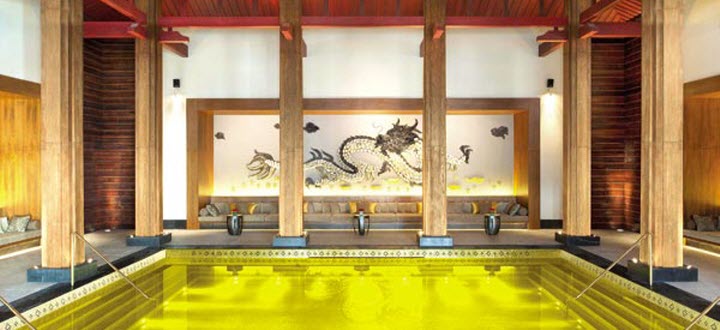 10. Holiday Inn Cantilever Pool – Shanghai
This 24th story high, glass-bottomed pool juts out of the side of a Holiday Inn in Shanghai. You know, for when ground-level swimming seems just too dull, or for when you are ready to get over your fear of heights (or make them worse)! Fortunately for those terrified of the drop, the majority of it is inside the building - although you will probably want to stay in the shallow end.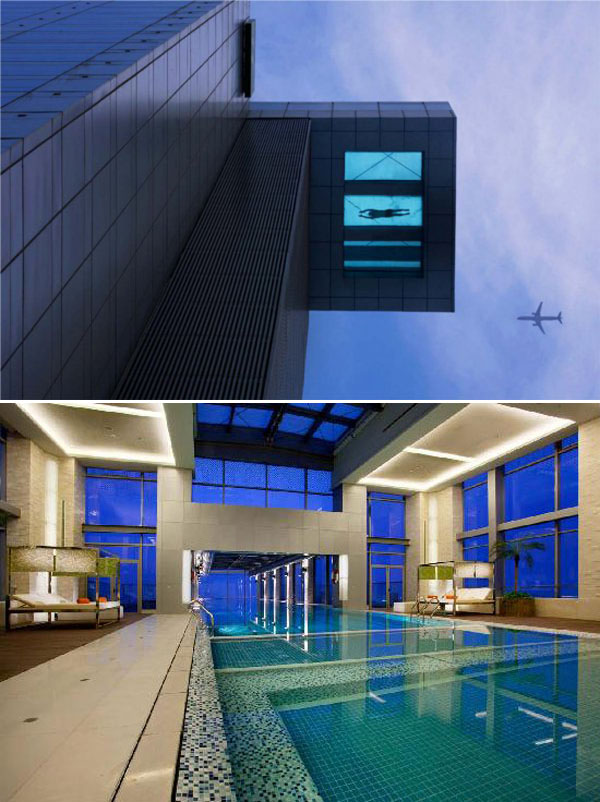 We hope you love these pools as much as we do. Are there any pools you believe we have missed? Let us know!